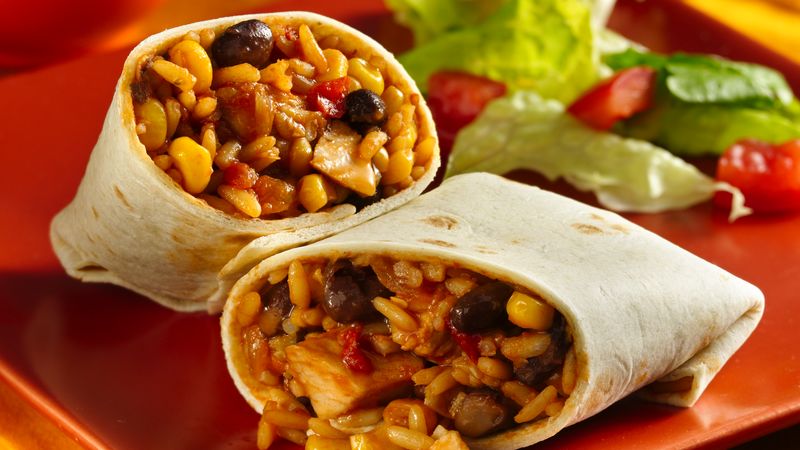 1 medium onion, diced
2 pounds hamburger
1/2 teaspoon ground cumin
1/4 teaspoon chili powder
1/4 teaspoon ground oregano
1/4 teaspoon salt
Three 7-ounce cans Mexican tomato sauce (I personally use El Patobrand) or enchilada sauce
One 28-ounce can refried beans
3/4 cup grated Cheddar, plus extra for sprinkling
12 burrito-size flour tortillas
1/2 cup fresh cilantro leaves
Preheat the oven to 170 to 180 levels F.


Inside a large skillet over medium heat, prepare the onions until softened. Adding the floor beef and prepare before the beef is cooked through. Add some cumin, chili powder, oregano and salt and stir to mix. Pour 2 cans from the Mexican tomato sauce in to the meat and simmer over low heat for 5-10 minutes. Give a little water when the mixture will get too dry.


Meanwhile, heat the refried beans inside a saucepan over medium-low heat. Add some cheese, and stir it in till its melted. Remove in the heat.


Heat the tortillas within the microwave for one minute, after which spread a tiny bit of beans on every tortilla. Add a tiny bit of the meat. Fold within the ends from the tortilla, after which roll them up. Repeat with all of those other tortillas. Then place these questions large baking dish, cover with foil and warm within the oven.


When prepared to serve, drizzle the rest of the can of tomato sauce over all the burritos and sprinkle with increased grated Cheddar. Go back to the oven for a few minutes simply to melt the cheese.


Sprinkle the tops using the cilantro leaves and serve immediately towards the fork-bangers inside your existence. They'll hug you and also hug you. Frequently.