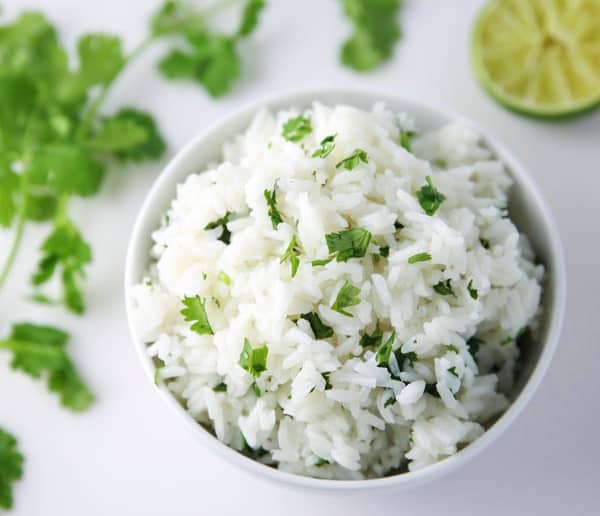 Ingredients Needed for Cilantro Lime Rice
Long grain white rice – I like to rinse the rice first so the end result isn't so sticky.


Olive oil – used for sauteing, vegetable oil will work great too.


Green onion – I like green onion here because it's more mild.


Garlic – love garlic? Feel free to add more.


Hot water – of course cold water works too, hot water will just reach a boil faster.


Fresh lime – only use fresh lime juice for best flavor.


Salt – I like to use about 1/2 tsp but I don't like things very salty so adjust to taste.


Cilantro – only use fresh cilantro here, dried would give it an entirely different flavor.
How to Make Cilantro Lime Rice
Rinse rice in a fine mesh sieve until water runs clear, drain well, set aside.


Saute aromatics: Heat oil in a large saucepan over medium heat. Add onions and garlic and saute 30 seconds.
Boil water: Pour in water, 1 Tbsp lime juice and salt. Bring to a boil over medium-high heat.


Cook rice: Add rice and spread even. Reduce heat to low, cover with a snug lid and let simmer until water has been absorbed, about 18 – 20 minutes.


Rest off heat: Remove from heat and let rest, covered, 10 minutes (or up to 30 minutes).


Add fresh flavorings: Stir in cilantro and remaining 1 Tbsp lime juice. Serve warm.